Did you know that Argentina receives more international tourists than any other country in South America? That's right, even without heavy hitting attractions like Machu Picchu or the Galapagos Islands, Argentina's incredible diversity makes it a year-round destination for every type of traveller.
Argentina is famous for many things – tango, amazing steak and incredible wine. But the most enduring image of Argentine culture is gaucho culture, both a folk symbol and a way of life in many rural areas.
To experience this unique culture and enjoy an authentic Argentine experience, we highly recommend you spend a few days at one of the country's exceptional estancias. Estancias are traditional ranches which offer guest accommodation and, usually, a range of onsite activities such as hiking, horse-riding and a glimpse of day-to-day tasks such as blacksmithing or horse-shoeing.
Found in every corner of the country, no matter where you are planning to visit, a side trip to a rural estancia is easily accommodated into any itinerary. Here are a few of our favourites…
Estancia Colome
Wine lovers, art enthusiasts and anyone with an appreciation of stunning scenery is going to adore Estancia Colome. Situated in the foothills of the Andes, in the beautiful Calchaquí Valleys, the estancia boasts incredible high-altitude wines (grown between 2,300 to 3,111 metres above sea level). And it is also home to one of Argentina's most surprising art museums – the only one in the world dedicated to American artist James Turrell. While many visitors opt for a whirlwind tour enroute to Salta or Cafayate, those in the know stay overnight at the gorgeous 9-room estancia and take their time to appreciate the world-class museum…and a glass of the exceptional Altura Máxima malbec, of course!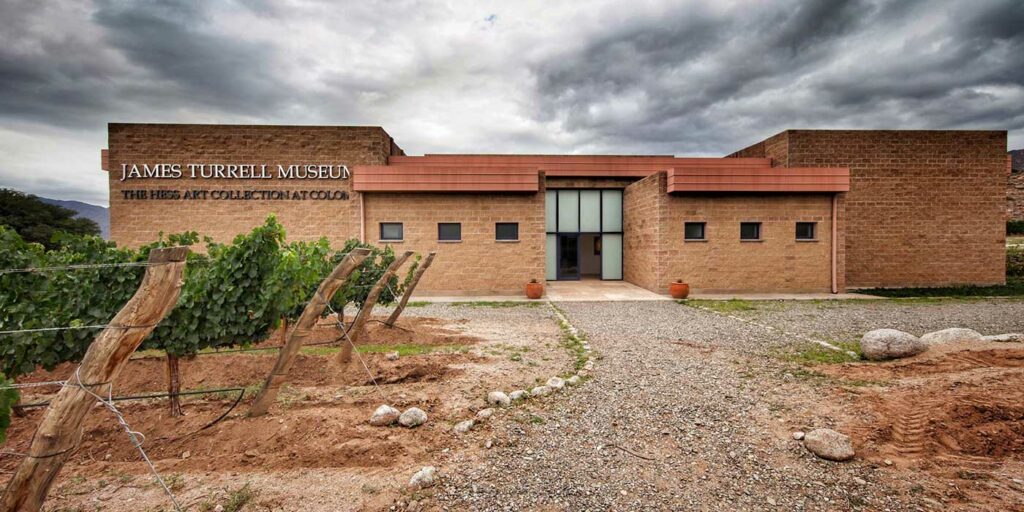 Estancia Cristina
If you are looking for an authentic estancia stay, Estancia Cristina offers an unparalleled experience in the heart of Argentine Patagonia.
Accessible only via a 3 hour boat trip from El Calafate, Estancia Cristina sits bang in the middle of Los Glaciares National Park and is surrounded by the rugged beauty and vast landscapes Patagonia is famous for.
Spread among 5 charming houses, Estancia Cristina offers 20 individual guest rooms, each with dramatic views towards Cerro Norte, draped in hanging glaciers.
Days are filled with guided hikes and 4×4 excursions to explore the Upsala Glacier, canyons full of prehistoric fossils, the dramatic viewpoint atop Cerro Carnero or the roaring Cascada del los Perros. Gauchos look after a stable of around 40 horses which are a joy to ride up and down the Caterina River valley, where fisherman can take their chance at the gigantic Chinook that spawn here yearly.
The estancia is only open from October to April – a 3 night stay is recommended to allow time to indulge in the plethora of activities available to guests.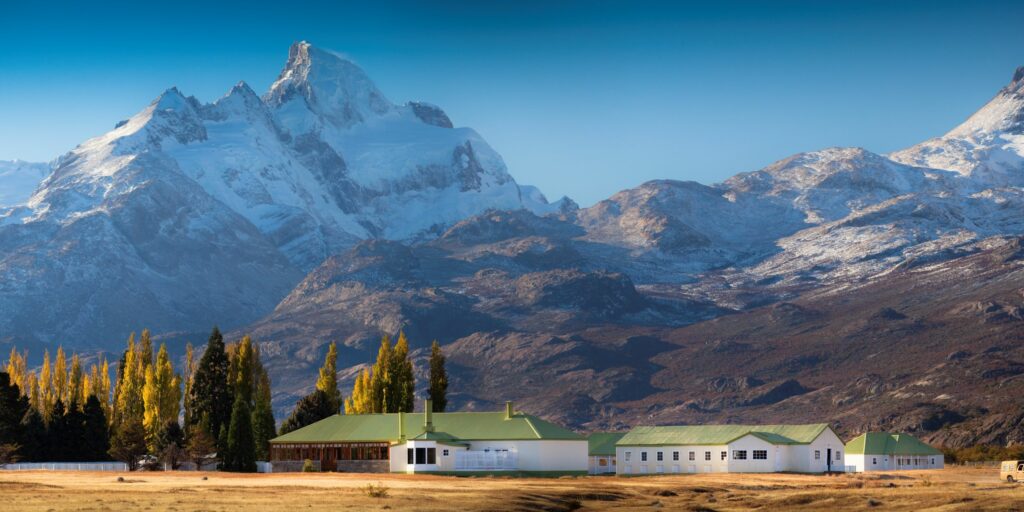 Estancia Peuma Hue
Estancia Peuma Hue is one of the Andean Lake Districts charming secrets. A welcoming getaway where you can either kick back and relax, or enjoy some of the incredible adventure activities right at your doorstep.
Why not start the day with a yoga class by the lake? Then, after a scrumptious home-style breakfast you can grab a kayak and head out onto the clear water of Lake Gutierrez. Alternatively, head off on one of the many trails that traverse the property. From challenging hikes to contemplative strolls, you decide just how much (or little) you wish to push yourself.
The estancia has capacity for just 28 guests, spread out over a series of small cottages which can be booked exclusively for family groups. Meals are served in the main house and are of exceptional quality, prepared using home-grown produce from the organic garden Enjoy a range of traditional Patagonian and Argentine cuisine, matched with local wines.
Contours Travel recommends a minimum of three nights at the estancia.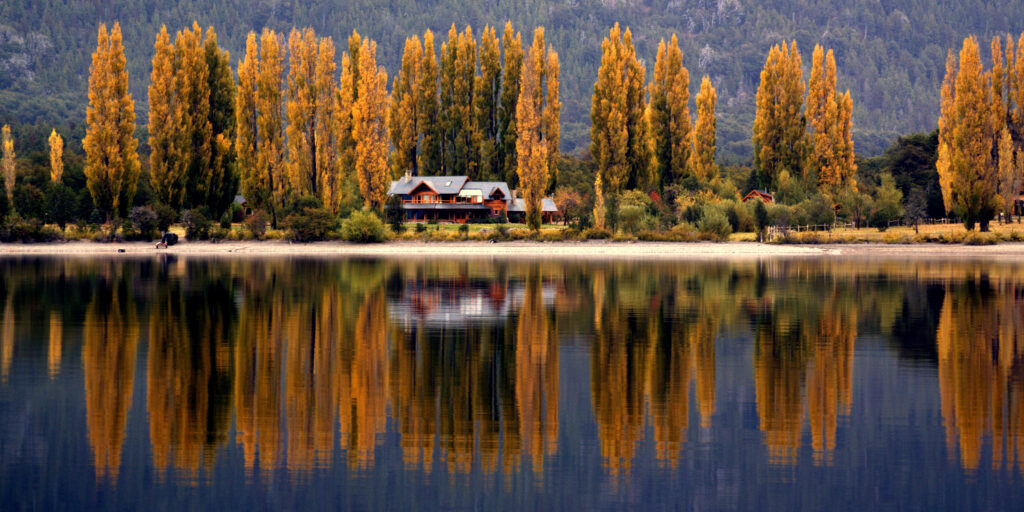 Estancia Las Carreras
Estancia Las Carreras is a 1718´s manor built by the Jesuits in Tafi del Valle, in the province of Tucuman. Here, guests can experience a taste of life during that era, while enjoying modern amenities. With only 10 rooms, and very much off the beaten trail, you stand a very good chance of having the estancia all to yourself. Activities include hiking, horse riding and visiting the working dairy and cheese factory. The onsite restaurant boasts fresh, locally grown produce and an excellent wine list, with plenty of local wines from the nearby Cafayate region.
Tafi del Valle is an excellent stop for those on a self-drive holiday around Argentina's north-western provinces.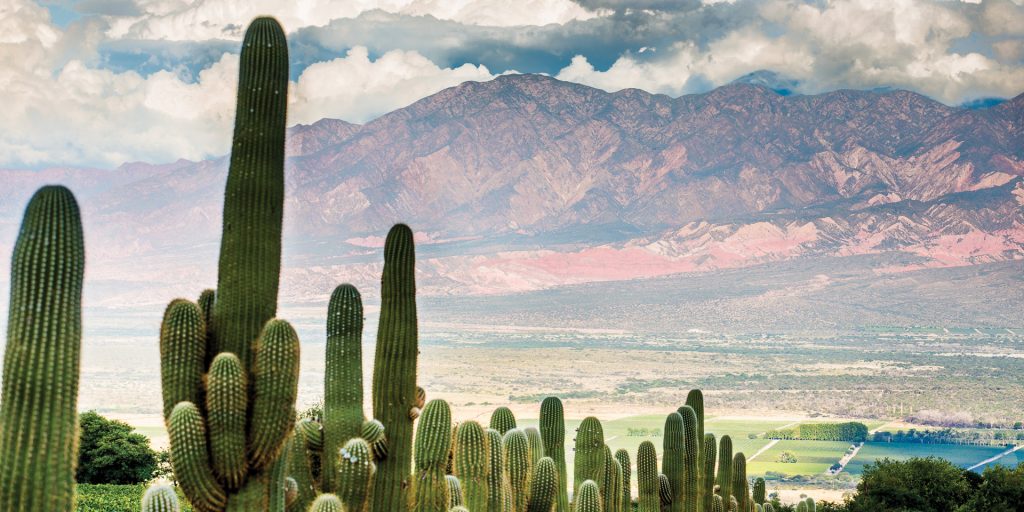 Estancia Rancho e Cuero
Located on 3,000 hectares of land in the Andean foothills, Estancia Rancho ´e Cuero is a family-run ranch in Mendoza, wine-growing capital of Argentina.
The estancia has belonged to the Palma family for over 250 years, and now opens its doors to guests seeking a different kind of experience. Enjoy horse riding, fly fishing and trekking – all in a vast and remote land surrounded by river valleys and jagged cliffs. Their Criollo horses are calm and suitable for every level of rider – even if you are a complete novice.
At the end of each day, return to your comfortable suite, furnished with traditional Argentinian artworks and local fabrics and with stunning views of the surrounding mountains.
Why not extend your stay in this marvellous region and see more of the famed Mendoza Wine Route? Self-drive and guided options available. 
Estancia la Bamba de Areco
Even if you are only stopping in Buenos Aires for a few days, there is still an opportunity to escape the city and experience life on an estancia…albeit in a very luxurious way!
Ideally located only 120 km from Buenos Aires and close to San Antonio de Areco in the heart of the Pampa, the Relais & Châteaux affiliated Estancia La Bamba de Areco successfully combines luxurious comfort and colonial elegance.
With a history stretching back to 1830, today guests are welcome to visit either for a day trip, or to overnight in one of the 11 luxury suites.
La Bamba de Areco is proud to offer authentic gaucho traditions such as asados and mate tasting, as well as gaucho shows which are private and unique: musical entertainment with folk dances, Indian horse-whispering and games of equestrian skill: patos, boleadors and sortija.
The estancia also serves as the base for La Bamba international polo team. Guests can watch games during the season, with practice sessions and matches taking place almost daily. And while it is not intended to be a polo school, arrangements can be made on request for guests who are experienced polo players.