Don't get me wrong, I love a good road trip as much as anyone! And I've taken plenty of spectacular cross-country adventures right across South and Central America. But a self-drive holiday isn't always recommended. And when it comes to self-drive holidays in Peru, we generally advise against it! Because sometimes you need the services of a steady-handed local (not to mention a shovel)!
Can you book a self-drive holiday in Peru?
Well, the short answer is yes! But should you? Not in my opinion! One particular road trip instantly springs to mind – a trip I took back in 2005 with some other tour operators and agents. We were traveling to Peru with the aim of exploring what was then the little-visited region of Chachapoyas. We had visited the incredible ruins of Kuelap in the morning and were on our way back to Chachapoyas city, traveling down a very steep, zig-zagging road that was cut into the mountainside. There had been a lot of rain in recent days and there were mini waterfalls cascading down each hairpin bend. And then suddenly, we rounded a corner and were confronted by a much bigger waterfall which had completely flooded the road!
The Peruvian driver and guide quickly leapt from the van and commandeered some locals to help clear the road. Impressed by their indefatigable response, we were soon involved in creating channels to drain the road. Many muddy hours later we were finally on our way again, with the driver inching his way through the slick mud (and those of us in the van nervously pondering the steep drop off to our right!). The whole time I kept thinking about the stress of doing this road trip with a hire car. And that's definitely not my idea of a relaxing holiday!
One of the things that continues to amaze me about South America is the continually changing face of the continent. And Kuelap is the perfect example – access has gone from that muddy track to a beautiful new cable car! Not only has this halved the journey time to get to the ruins, but it is a unique attraction in its own right.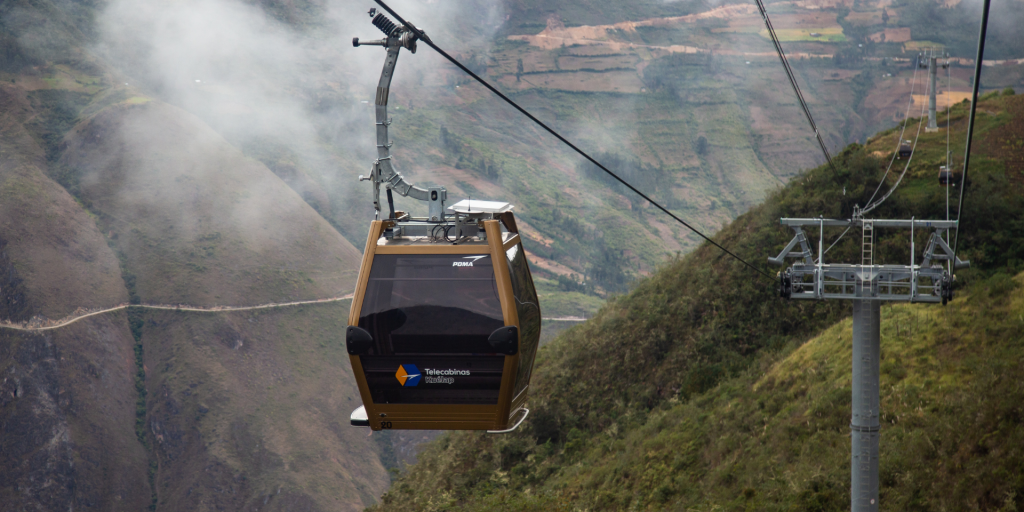 Chachapoyas to Cajamarca – one way or the other!
Our off-road adventures in Peru continued as we travelled south to Cajamarca. In fact, the road became so badly corrugated that the passengers staged a revolt! We begged the driver to take us the long way around (Chachapoyas to Chiclayo and then inland to Cajamarca via a paved road). Despite adding almost 400km to the trip, we probably made it faster than we would have jolting along that awful road! And wouldn't you know it? The route is now paved almost the whole way and boasts simply stunning views.
Despite the improvements , Northern Peru is still not a region I would recommend for a self-drive holiday. But it is a fantastic place to explore with a driver and guide. The infrastructure and accommodation options have improved dramatically since 2005 and it's now possible to have a very comfortable holiday. And unlike the crowds at Machu Picchu, the region known as the Northern Kingdoms is still relatively untouristed.
Ted's top tips for your Northern Kingdom's road trip
Check out the excellent Royal Tombs of Sipan Museum in Chiclayo
Take the cable car to Kuelap and explore these pre-Inca ruins
Visit the stunning Gocta Falls – a great hike through the cloud forest which culminates at the 700m drop waterfall.
See the Chachapoya funeral tombs of Revash, perched high on a cliff face and featuring carved symbols such as the Andean cross.
Drive the scenic route from Chachapoyas to Cajamarca and spend a few days in this beautiful mountain city
There is so much more to Peru than Machu Picchu! So, why not get in touch with one of our travel specialists today and discover the fantastic northern kingdoms on your next holiday to South America? Shovels no longer required….!