Often hotly debated in terms of which is better, Argentina's Los Glaciares National Park is every bit spectacular as Chile's Torres del Paine National Park just across the border. But it is best to do both sides so you can decide for yourself. On either side, there is a good chance you will encounter condors, pumas, guanacos, huemuls, red and grey foxes, skunks, armadillos, field mice and countless species of birdlife that inhabit this region of Southern Patagonian Andes.
Both parks feature towering granite massifs gnarled and craved by monster glaciers of the same Southern Patagonian Ice Field between Chile and Argentina. The only difference being which ocean their meltwater ends up in! Perito Moreno Glacier's runs eastward across the windswept Argentine pampas and directly into the Atlantic while Grey Glacier's ebbs and flows westward through the maze of Chilean fjords and eventually into the Pacific.
For Los Glaciares National Park, El Calafate is the gateway to the broad and actively calving Perito Moreno Glacier. While El Chaltén is the starting point of some of the best Argentine Patagonian walks and treks around the base of Mount Fitz Roy. And unlike Torres del Paine where there are no services available, there are numerous accommodation options, restaurants, and other township services close to/inside Los Glaciares National Park, making it easily more affordable to explore.
So, which option is right for you?
Like Torres del Paine, there are basically three ways for you to explore Los Glaciares National Park in Patagonia, Argentina. These range from budget friendly to deluxe all inclusive stays.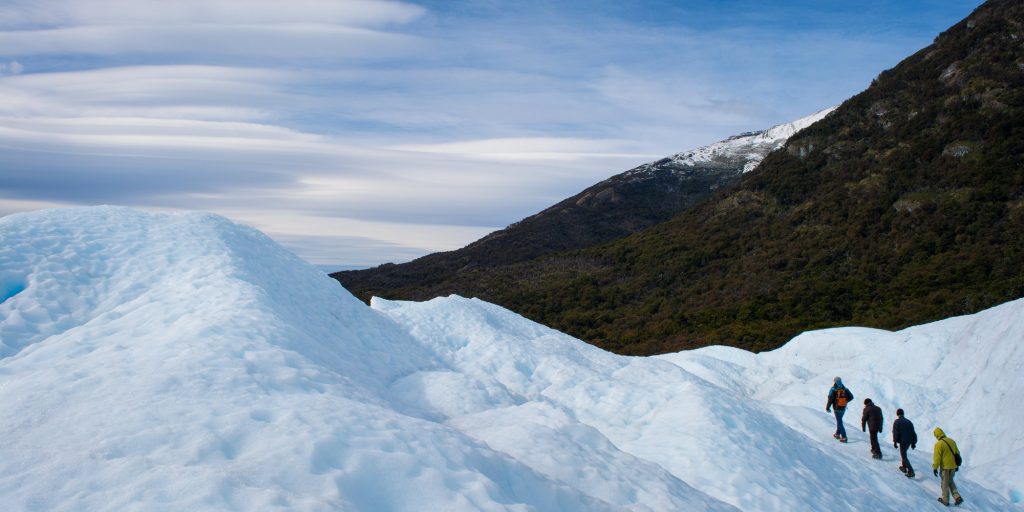 Spoil yourself with a stay at an all-inclusive luxury lodge or Patagonian estancias (ranches). Options include Explora Travesías, Eolo Lodge, Helsingfors Lodge, Estancia Cristina Lodge, Aguas Arriba Lodge and Estancia Nibepo Aike. These luxury lodges provide almost everything you need during your stay. Most include airport transfers transfers, most meals and some beverages. And most importantly, scheduled guided small-group excursions close to/inside the National Park. These inclusions vary and are subject to availability and weather conditions.
You can have an adventure! Opt for an organised 'value for money' group trek with accommodation in mountain lodges or glamping in 'eco-domes'. Often centered around a combination of half-day and full-day walks starting from El Chaltén with options to kayak and ice-trek. Normal inclusions are; return shared transfers from El Calafate, basic accommodation, meals, National Park ticket, a guide, luggage storage and equipment hire. Beverages, bottled water and unscheduled meals are an additional expense.
You can go your own way: Guided by your knowledgeable Latin American specialist; you will determine when, where and how long you enjoy Los Glaciares National Park. Contours Travel has been organising fully inclusive touring with transfers, excursions and accommodation in Patagonia since 1975. Argentine Patagonia around El Calafate and El Chaltén is also a popular self-drive destination. Ask us for a tailor-made car hire & accommodation package.