Chile contains a multitude of wonders that will leave you wanting more. From the desert in the north to glaciers in the south, and everything in between. But, what to see first? Would it be the Atacama desert with its starry night skies? Or would you rather the immensity of Chilean Patagonia and its glaciers? Perhaps you prefer the bustling city of Santiago? Or the calm and mystical Island of Chiloe? Whatever your preference, you can discover Chile from top to toe with the luxurious Tierra Hotels. These boutique all-inclusive lodges are inspired by the nature that surrounds them, offering adventure and luxury.
Tierra Patagonia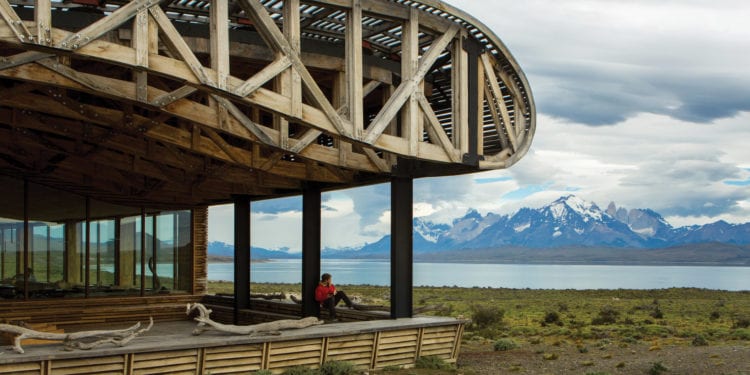 Your adventure begins with a short flight south, to the rugged mountains and pristine lakes of Torres del Paine National Park. Indulge in full days of adventure activities exploring the park and its abundant wildlife. At Tierra Patagonia, you will not only enjoy the endless array of outdoor activities but also the complete spa. And you will be wowed by the impressive architecture of the hotel. The building blends seamlessly with its surrounds and offers panoramic views of the magnificent 'towers'.
After a few days to enjoy the wealth of activities offered by Tierra, fly to Santiago, Chiles' capital city. Cycle around the trendy Bellavista neighbourhood and visit Pablo Neruda's' remarkable house La Chascona. Explore La Vega and Central Markets to enjoy a delicious King Crab dish in these iconic buildings. Then, visit the vineyards nearby for an excellent taste of local Carménère. Alternatively, have a panoramic view of the city with the snow-capped Andes as a backdrop from Cerro Santa Lucia.
Tierra Atacama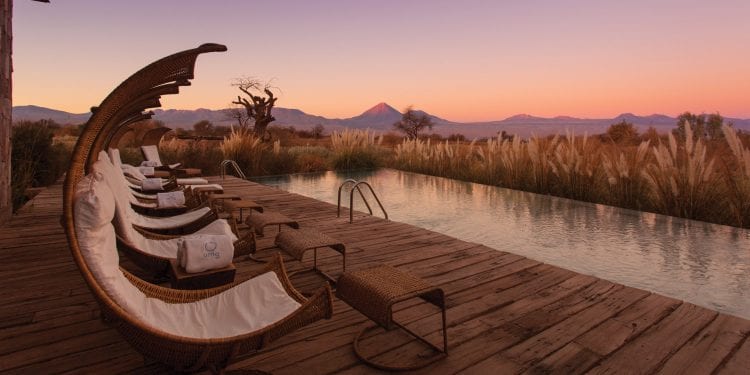 After a few days enjoying cosmopolitan Santiago, escape the modern world and head north to the otherworldly Atacama Desert. Its jaw-dropping landscapes include high altitude lagoons, moon-like valleys and geysers. Tierra Atacama encapsulates exquisite design, authentic experiences and an intimate atmosphere. So you will enjoy pure relaxation after a full day of adventurous activities. What's more, you can enjoy a day of pampering at Uma Spa. Here, native flora and ancient therapies are used to ease the body and sooth the soul. Could there be a better way to end this trip?
When combining any two of the three amazing properties on your tailored itinerary, you can save more than AUD$1200 per person. Or, you can combine it with Tierra Chiloe if you're are after a more relaxing itinerary. Talk to one of our travel experts who will help you with your trip to Chile.