It is estimated that the world consumes up to 5 trillion plastic bags each year. Most of these are of polyethylene, which takes at least 500 years to degrade. As you probably know, Latin America – home to the Amazon Basin, the Patagonian highlands, and a dense concentration of coral reefs – is incredibly rich in biodiversity. And for that reason, the continent is determined to fight the war against plastic. They are using taxes, bans, and technological innovation to restrict the production and consumption of plastic bags . The aim is to reduce plastics harmful impact on oceans and marine species. Here are some of the incredible initiatives against plastic in the region:
Innovative Cities.
In August 2009, Mexico City reformed the Solid Waste Law and prohibited stores from dispensing bags free of charge.
The government in Sao Paulo approved a law prohibiting the free distribution of plastic bags in shops in 2011. Due to legal claims, it was not endorsed until 2015. According to data from the City Council of Sao Paulo, the consumption of disposable bags was reduced by up to 70% during the first year of the implementation of the law.
In 2017, Buenos Aires prohibited all supermarkets from using or selling disposable plastic shopping bag. Before the law passed, some 500 million plastic bags per year were used in the city which would end up in local waterways. A similar ban is also in force in other Argentine cities including Rosario, Pinamar, and Bariloche.
Changes at a National Level.
Colombia
In 2017, Colombia applied a tax to large plastic bags. The measure has helped reduce plastic bag consumption by 35% and raise a total of about AUD$4.7 million.
Panama
Panama became the first country in Central America to ban polyethylene bags in 2018. The nation is also drawing up a national plan to combat marine litter.
Chile
In May 2018, Chile became the first South American country to approve a nationwide ban on single-use plastic bags, garnering congratulations from around the world for its efforts to beat plastic pollution ahead of World Environment Day on 5 June. The ban will come into force in one year's time for major retailers and in two years' time for smaller businesses.
Costa Rica
Costa Rica adopted a national strategy to drastically reduce the use of disposable plastics by 2021. This approach has been copied by other Caribbean & Central American nations. In fact, Belize, Bahamas, and Bermuda have passed or are drafting laws to eradicate single-use plastics.
Peru
In Peru, several bills on the issue of plastic bags have been debated in Congress. The most recent, prepared by the Government, seeks to reduce the consumption of plastic by 35% during the first year of implementation.
Ecuador & the Galapagos Islands
Ecuador aims to transform the remote Galápagos Islands into a plastics-free archipelago. That means, no more plastic straws, bags or bottles will be sold or used after 21 August of this year. The following items have been prohibited in the territory of the Galapagos Province:
Since June 21st, 2018: Plastic bags with handles. Alternatives to this product are reusable bags, paper bags, etc.
Since July 21st, 2018: All Styrofoam utensils. Options include reusable containers, biodegradable containers, etc.
Since August 21st, 2018: Plastic bottles. The alternative is using refillable water bottles.
Since May 22nd, 2018: Plastic straws of any kind, shape or size. Alternatives to this product are available as merchandise and include metal and thick-paper straws. Quite naturally, doing without a straw is the best option.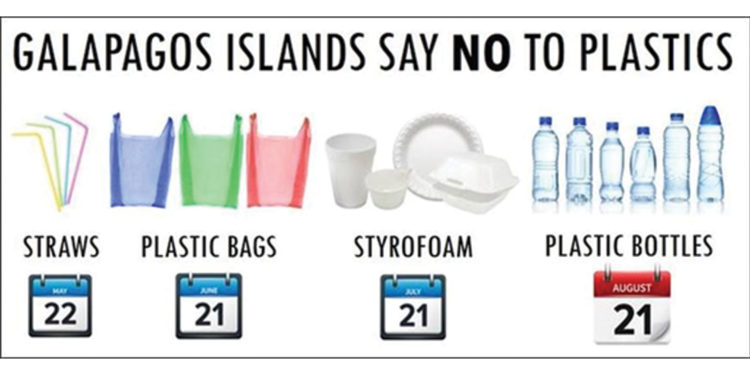 Here at Contours Travel, we encourage you to travel plastic-free. For example, taking your own reusable bottle of water. We are all fighting the war against plastic and we will help you along your adventure to fight it too!
*Source: UN Environment